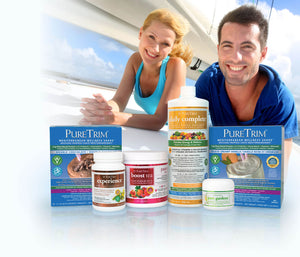 Focus on your wellness with the 10-Day Weight Loss Challenge StarterPak!Boost Tea aims to support healthy glucose metabolism and the breakdown of carbohydrates and fats.
-Liquid Daily Complete is a comprehensive
liquid supplement containing 194 vitamins, minerals, organic fruits, organic vegetables, enzymes, amino acids, organic Mediterranean herbs, pure phytoplankton, and other important accessory nutrients for overall well-being.
-Experience promotes
colon health and regularity.
-Mediterranean PureTrim Shakes are gluten-free, dairy-free, and soy-free,
providing 21g of plant-based protein.
-Pure Gardens Skin Serum helps
reduce the appearance of wrinkles and crepey skin for a more youthful appearance.
-Includes an
exercise and meal plan book to guide and support your weight management journey.
1 box of PureTrim® Chocolate Shakes (each box - 10 packets)
1 box of PureTrim® Vanilla Shakes (each box - 10 packets)
1 jar of PureTrim Boost Tea®
1 bottle of Liquid Daily Complete®
1 bottle of Experience®
1 jar of Pure Gardens® Skin Serum
FREE weight management book